New Bedford, Mass., 4 July 1935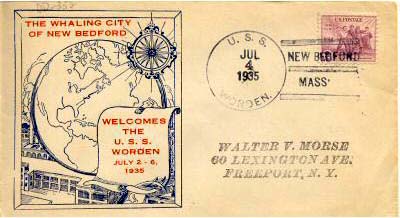 These photos were apparently taken in New Bedford, Massachusetts, on 4 July 1935 while Worden was nearing the end of its shakedown cruise to Bremerton, Washington, via the Panama Canal. Note the civilians aboard and the early paint scheme.
The third photo is one of the few known close-ups of Worden. The bottom photo shows Worden in "full dress" with national ensigns on both masts and a "rainbow" display of signal flags. This is probably the Fourth of July open house in 1935, commemorated by a special postmark (right).
Handwriting on the backs of the photographs assert that the venue is San Diego, but the background is clearly not San Diego Bay. The New England-style buildings and churches correspond to Fairhaven, Massachusetts, across the Acushnet River from New Bedford. Worden visited there 2 to 6 July 1935.
See the enlargement at bottom for a better view, and compare it with the town of Fairhaven's 2009 tourism logo. The unusual spire to the right is the Unitarian Memorial Church in Fairhaven; all three spires are clustered around Center Street, and their relative positions indicate that the photographs were taken from the vicinity of Homers Wharf in New Bedford.